Teach English Online To Adults With These Easy Tips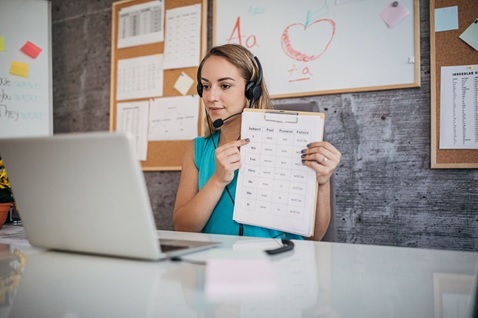 Why teach English online?
Before we start understanding the appropriate ways to teach English online to adults, let us first look at some of the reasons why you should consider online English teaching to adults. The reasons have been discussed below:
It's rewarding
Teaching is a rewarding profession, and online English teaching is no exception in this regard. To be able to help learners learn a new language, and express themselves in newer ways is hugely fulfilling.
You can make an impact
It has been estimated that over 1.5 billion people around the world speak English. If you use your expertise in this language to teach others, you can help to introduce them to a global community that speaks the same language.
To share cultures
When you're teaching online, you get a wide variety of students. Hence, you get to learn about the different cultures and ways of life from different perspectives as well as also share your culture with your students.
It's a booming industry
Post pandemic, the global need for English as the second language (ESL) teachers have been growing. As more people want to learn English, there is a greater demand for those who can effectively teach the language and after discovering the many benefits of teaching and learning online, most learners and their teachers prefer this mode of learning.

Moreover, a study by a global research company shows that the global ESL market is expected to grow to $14.69 billion by 2024.
Teaching English to Adult Learners
There are numerous advantages of teaching English online to adults. They include flexible hours, helping an adult learner achieve milestones and learn a new language, and even living and working from anywhere of your choice.

The question lies: how to get started?

Teaching adult learners is of course a lot different than teaching a classroom with carefree younger learners.

As the teacher, you need to create a virtual environment conducive to learning making all the learners attending the class feel comfortable.

Here is everything you need to know to help you teach English online to adults:
• Mix up your lessons.
• Use tech to your advantage.
• Make sure you connect with your class.
• Keep students busy.
• Find a job to teach ESL online to adults.
1. Mix up your lessons
There are tons of materials including games, ideas, and different songs to sing in class for your young learners; but, when it comes to finding similar resources for online lessons for adults, there is hardly much content!

However, you must include a range of activities to use while teaching your adult learners too and help them stay engaged and motivated.

To reach their learning goals, besides reading, writing, listening and speaking skills, you may use quizzes, games and challenges to spice up the lessons for your adult learners by modifying some of the kids' activities.

For instance, ask your adult learners to speak on a topic for 30 seconds without any pause to help them improve fluency; you can also incorporate songs for listening exercises, or acting activities.
2. Use tech to your advantage
Teaching online and face-to-face require similar skills but with a little different approach.

The most important part is making the most out of the technology available while teaching adults online; hence you must get the basics clear before your first lesson.

Also, remember that the digital teaching tools you have available could take your teaching to a different level altogether.

Find out your adult students' favorite digital tools they use at work or for their studies to make them an asset during your lessons.
3. Establish connections with your class
Online classes mostly feel less personal than in-class learning; therefore as the teacher, you need to make an extra effort to build connections with your students.

Start lessons with a few minutes of small talk to lighten the mood and cheer everyone up; ask your learners' interests too; remembering some of the things that the students have shared in previous lessons and asking follow-up questions also go a long way.

Another effective way to connect with your students, and help them in their learning, is by giving personalized feedback. Experiment with different methods of giving feedback to find the best one that will give you and your learners the best outcomes.
4. Keep students busy
As an online teacher for adults, there will be a lot of distractions during the classes.

Your adult learners will get work emails, phone messages, or they may even be tempted to open their favorite social media or websites.

Hence, you need to devise the best way to keep your online students' attention and that is to keep them as busy as possible.

You can do so by planning more and more to keep the pace up, and when teaching a group class, prepare extra activities for students who generally finish solo activities like writing tasks early on.
5. Find a job teaching English online to adults
Find out who is hiring. So, who is hiring? Here are five of the best online opportunities available in the market.
Break into English
Work here a minimum of 5 hours a week, which you can extend if you want to. Adult learning includes 30 minutes to 2 hours of class covering business, legal and general English lessons as well as exam preparation courses.
Cambly
Teach here one-on-one lessons to students around the world and get paid 10.20 USD per hour teaching. You can schedule your lessons as per convenience and can work as many or as few hours as you want.
EF
Especially meant to give online lessons to adult learners all over the world, here you can schedule your task at any time throughout the day with 20, 40, or 45 minutes of lesson time.
Tutoring
An English learning app that offers audio English classes to kids and adults in South Korea, here classes are on a one-on-one basis and teachers can work flexible hours with periodic training sessions.
Fluentify
Fluentify helps business professionals from all over the world improve their language skills. Teachers with 2 years of online teaching experience and a TEFL qualification are eligible to teach here.